TO OUR CONSIGNERS
We closed our doors on March 23, 2020 in an effort to protect our
staff, customers and consigners from the corona virus.
Subsequently, on April 1st Governor DeSantis issued a 30 day stay-
at-home order for all Floridians and for all non-essential businesses
to close. We are considered a non-essential business.
1. We are closed. Please do not call, email or text about your
consignment items.
2. Consignments that expired on or before March 23rd are expired.
3. All Consignments received on or after March 23rd and any contract expiring after March 23rd, will be extended to September 30, 2020.
No contracts in these categories will expire during this unprecedented
time, as we are making every effort to be fair and
to sell the items you entrusted to us.
4. Again, we are closed. Absolutely no consignment payments
will be made for at least 30 days following our re-opening.
Please do not call, email or text. We will post our re-opening
date to our Website and to Facebook once we know what it is.
Thank you for your understanding during this difficult time.
——————————————————————————————————————-
The safety of our staff, customers and community is our top priority, and with heavy hearts we are TEMPORARILY closing Pelicans and Flamingos doors until further notice.
We thank you for your understanding as we move through these unprecedented times together. We look forward to welcoming everyone back to the store very soon, take care of yourselves and we'll see you in better times!
Watch out for our continued posts on our social media platforms on available furniture and stylish home décor!
For more information kindly call  the store 941-966-0600 or leave a message and we will get back with you as soon as we can.
——————————————————————————————————————
"Experience great shopping, where shopping is a great experience…"
Exciting Changes!
We are delighted to announce the combining of our two lovely stores Pelican Cottage and The Flamingo' Nest. Our new name is "Pelicans and Flamingos" and you'll now find us both in The Flamingo's Nest's two-story coral building at 758 S. Tamiami Trail in Osprey.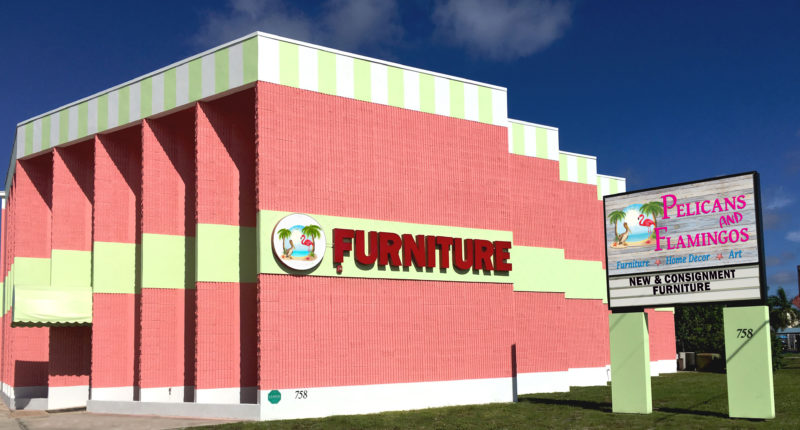 Just think, now you can conveniently shop for New, Model Home, and Consigned furniture under one colorful roof! New furniture will be displayed in one area and Consignment furniture in another. That way if you are only interested in one type you can go right to it. Many of you love to blend new and used furniture together which is a fabulous way to make your home unique and interesting. With 24,000 feet of artfully displayed furniture, it's a treasure hunt and adventure all in one!
Please stop by to check out all the wonderful furniture and accessories that adorn our Key West inspired store.  No matter what your taste in furniture is – you'll find it at Pelicans and Flamingos.  Look for Florida Lifestyle, Tropical, Coastal, Shabby Chic, Traditional and Modern styles.   As always, enjoy the complimentary cookies, ice cold water and carefree, light-hearted Calypso music as you browse.   Our knowledgeable team of sales associates and designers, whom many of you already know and love, are ready and eager to assist you.  Allow us to help you embrace the Florida life style!
Abundant Selection
We regularly travel throughout Florida and neighboring states seeking Artisans to bring you amazing original works of local art – from signs, to hand-made, hand-painted furniture, to metal works and statuary.
Additionally, we often have one-of-a-kind furnishings that we have secured through store-closeouts, model homes, or estates.
We carry several lines of furniture, most of which are "Made in the USA." Although we have a large selection of upholstered goods in stock, you have the great option of custom ordering furniture from a multitude of catalogs and over 1,000 fabrics to choose from.
Come visit us today:
Store Hours:
Monday – Friday 10:00 – 5:00 Saturday 10:00 – 4:00
758 S. Tamiami Trail Osprey, FL 34229
Phone: 941-966-0600
Email: info@pelicansandflamingos.com
Look for two story Coral and Lime Green Building.